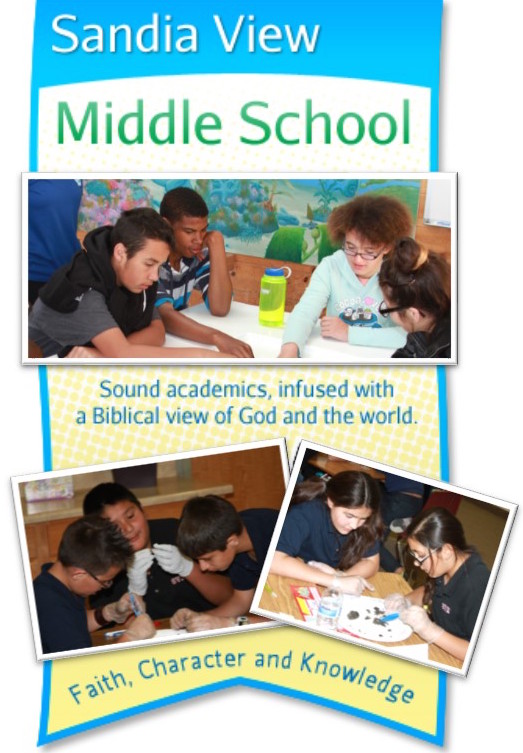 Knowing that the process of education continues throughout eternity, teachers work with students to help them become independent thinkers and self-reliant learners.
At Sandia View Christian School we believe that middle school is the bridge between elementary and high school.  Here students in fifth through eighth grade continue to learn basic skills and in addition learn study skills and habits necessary for serious academic work in high school.  We assess where students are academically when they arrive, know where they need to be when they leave and have a plan in place to get them there.  We look at the academic foundation, find the weak spots and strengthen them.  We are big enough to have the capabilities to provide help and small enough to meet each student's individual academic needs.
SVCS pursues academic excellence in all areas.  We provide sound academics, infused with a Biblical view of God and the world.  In annual standardized testing, SVCS students consistently perform above the national average at every grade level.   SVCS offers a full, challenging curriculum of Reading, English, Social Studies, Spelling, Science, Math, Computer Science plus music, art and physical education.  To achieve this we incorporate the best of Christian and traditional curriculum, all of which are taught from a Bible-based perspective.  The Middle School program is departmentalized, providing instructors who are teaching in their areas of expertise.
Highlights
Challenging, Christ-Centered Curriculum
SMART Board technology and computers in each classroom
Gifted/Honors curriculum
Complete resource library
Low student/teacher ratio
Daily worship through Bible Study, Song & Prayer
Community service outreach
Educational field trips
Presidential Fitness Program
Comprehensive music and art program
Elective programs including:

Creative Arts Team
Drama Team

Interscholastic sports including co-ed volleyball and boys & girls basketball